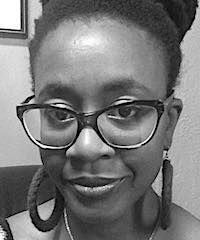 Nnedi Okorafor
---
Nnedimma Nkemdili "Nnedi" Okorafor is a Nigerian-American writer of fantasy and science fiction for both children and adults.
She is best known for her Binti novellas and her novels Who Fears Death, Zahrah the Windseeker, Akata Witch, and Lagoon. She has also written for comics and film.
Her writing, which she describes as "Africanfuturism" and "Africanjujuism", is heavily influenced by her dual Nigerian and American heritage. She is the recipient of multiple awards, including the Hugo Award, Nebula Award, and Eisner Award.
---
from Wikipedia
---