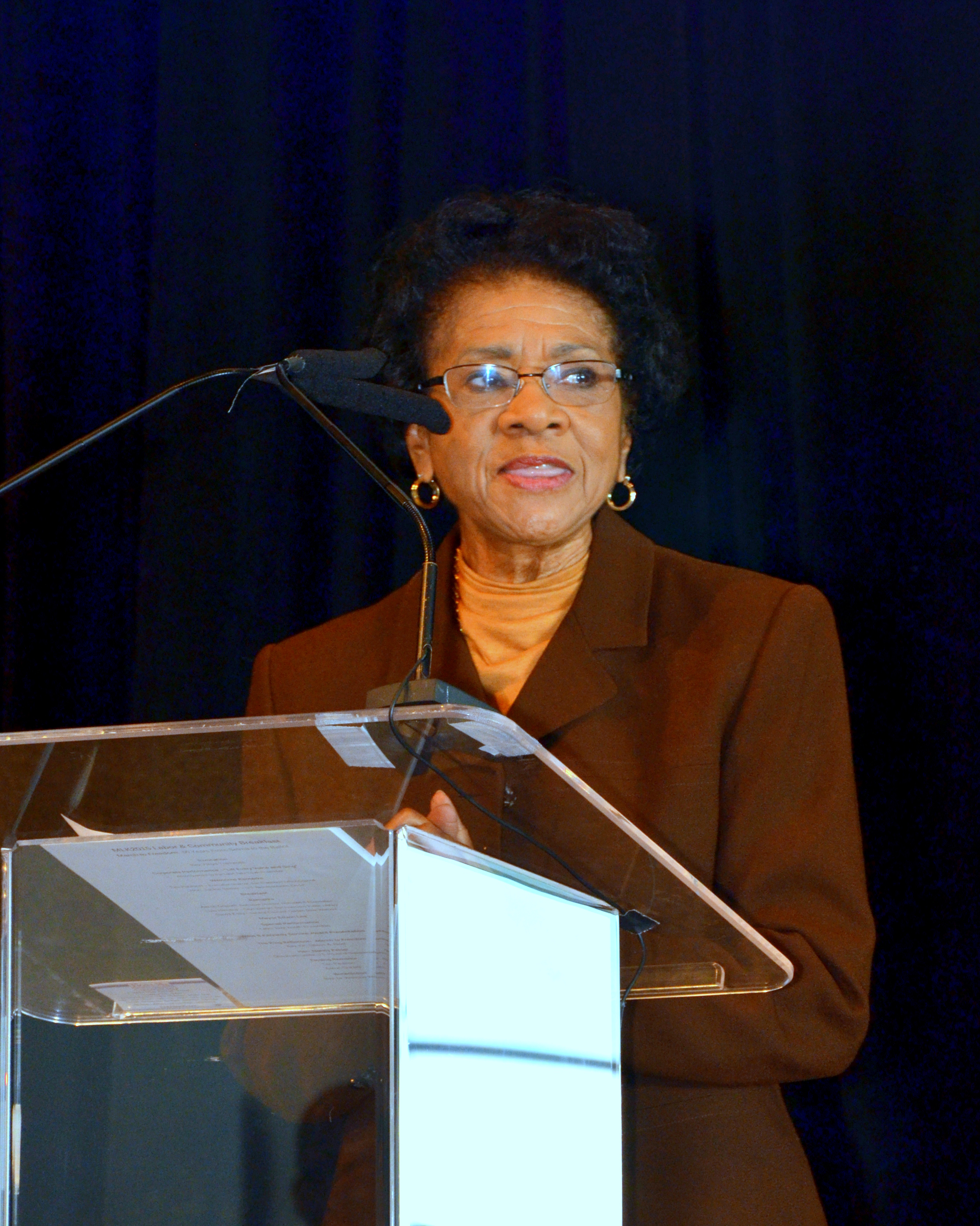 Belva Davis
Award-winning Television Anchor and Journalist
---
The inaugural Willie B Kennedy Civic Service Award was presented in 2015 to television anchor and journalist, Belva Davis.
Belva Davis is an American television and radio journalist. She is the first African-American woman to become a television reporter on the U.S. West Coast. She has won eight Emmy Awards and been recognized by the American Women in Radio and Television and National Association of Black Journalists.
After growing up in Oakland, California, Davis began writing freelance articles for magazines in 1957. Within a few years, she began reporting on radio and television. As a reporter, Davis covered many important events of the day, including issues of race, gender, and politics. She became an anchorwoman and hosted her own talk show, before retiring in 2012.
Davis accepted a freelance assignment in 1957 for Jet, a magazine focusing on African American issues, and became a stringer for the publication. She received $5 per piece with no byline. Over the next few years, she began writing for other African American publications, including the Sun Reporter and Bay Area Independent. Davis edited the Sun Reporter from 1961 through 1968.
In 1961, Davis became an on-air interviewer for KSAN, an AM radio station broadcasting in San Francisco. She made her television debut in 1963 for KTVU, a Bay Area television station, covering an African American beauty pageant. She worked as a disc jockey for KDIA, a soul-gospel radio station based in Oakland, California, when the 1964 Republican National Convention, located at the Cow Palace in nearby Daly City, California, inspired her to become a reporter. According to Davis' account, while she was covering the convention with Louis Freeman, the two were chased out of the Cow Palace by convention attendees throwing food at them and yelling racial slurs. It would not be the last time she encountered racism on the job: In 1987 she covered a march during the Civil Rights Movement in Forsythe County, Georgia, and attempted to interview a white woman who spat in her face.
Davis worked for KNEW, an AM radio station located in Oakland, as an announcer in 1966. She became the first female African American television journalist on the West Coast when she was hired by KPIX-TV in 1966. She spent the next three decades working for KPIX, becoming an anchorwoman in 1970, and KRON-TV. Stories she covered include the Berkeley riots of the Free Speech Movement, the Black Panthers, the mass suicide-murder at Jonestown, the Moscone–Milk assassinations, the AIDS and crack epidemics, and the 1998 United States embassy bombing in Tanzania.
Davis was highly regarded for her coverage of politics and issues of race and gender, as well as her calm demeanor. Rita Williams, a reporter for KTVU, said "Belva knew instinctively how to keep everyone in check. Amid all these prima donnas, she had so much class, so much presence, so much intuition. Belva has always been the grande dame."
Her autobiography, entitled Never in My Wildest Dreams: A Black Woman's Life in Journalism, was published in 2010. In the foreword he contributed for her 2010 autobiography, Bill Cosby wrote she also had symbolic value to the African American television audience, as "someone who sustained us, who made us proud." He wrote that "We looked forward to seeing her prove the stereotypical ugliness of those days to be wrong."
Davis hosted "This Week in Northern California" on KQED, starting in the 1990s. She retired in November 2012. Her final broadcast included a taped interview with Maya Angelou, a personal friend, as she wanted the theme of her final show to be friendship.
Davis was the first African American female television journalist on the west coast. Her career spans over six decades as a print, radio, and broadcast journalist, which includes three decades as television anchor for San Francisco's CBS-affiliate, KPIX, then-NBC-affiliate, KRON and PBS-affiliate KQED. For her work, she received eight local Emmy Awards and special lifetime achievement awards from the American Women in Radio and Television and National Association of Black Journalists.
---
from Wikipedia and NorcalMLK
---