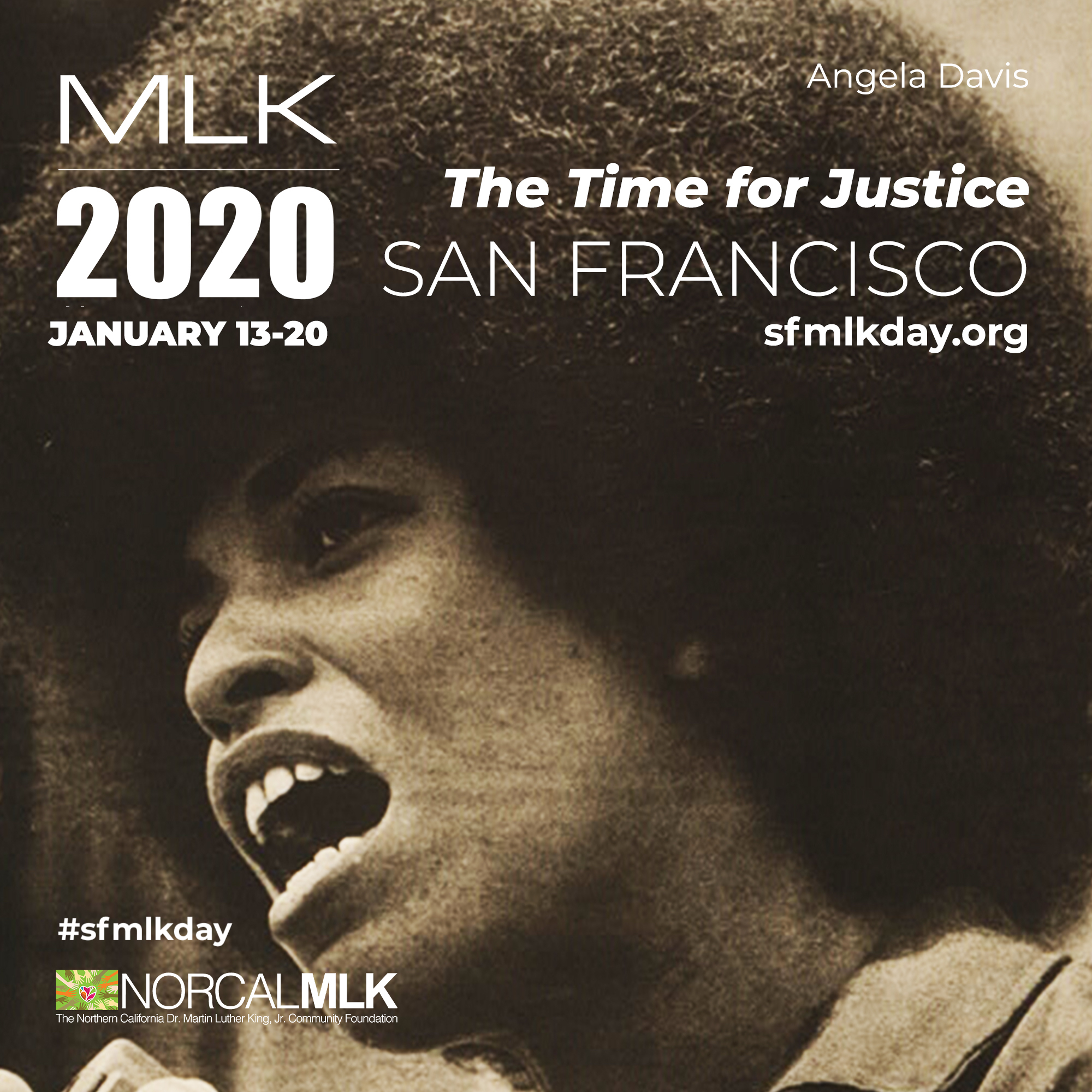 Angela Davis
Emeritus Professor -- University of California Santa Cruz
---
In 2020 the Northern California Dr. Martin Luther King, Jr. Community Foundation recognized Dr. Angela Davis as its 2020 Willie B Kennedy Civic Service Awardee, in abstentia.
-- Angela Yvonne Davis (born January 26, 1944) is an American political activist, philosopher, academic and author. She is a professor at the University of California, Santa Cruz. Ideologically a Marxist, Davis was a longtime member of the Communist Party USA (CPUSA) and is a founding member of the Committees of Correspondence for Democracy and Socialism (CCDS). She is the author of over ten books on class, feminism, race, and the US prison system.
Born to an African-American family in Birmingham, Alabama, Davis studied French at Brandeis University and philosophy at the University of Frankfurt in West Germany. Studying under the philosopher Herbert Marcuse, a prominent figure in the Frankfurt School, Davis became increasingly engaged in far-left politics. Returning to the United States, she studied at the University of California, San Diego, before moving to East Germany, where she completed a doctorate at the Humboldt University of Berlin. After returning to the United States, she joined the Communist Party and became involved in numerous causes, including the second-wave feminist movement and the campaign against the Vietnam War. In 1969 she was hired as an acting assistant professor of philosophy at the University of California, Los Angeles (UCLA). UCLA's governing Board of Regents soon fired her due to her Communist Party membership; after a court ruled this illegal, the university fired her again, this time for her use of inflammatory language.
In 1970, guns belonging to Davis were used in an armed takeover of a courtroom in Marin County, California, in which four people were killed. Prosecuted for three capital felonies, including conspiracy to murder, she was held in jail for over a year before being acquitted of all charges in 1972. She visited Eastern Bloc countries in the 1970s and during the 1980s was twice the Communist Party's candidate for Vice President; at this time, she also held the position of professor of ethnic studies at San Francisco State University. Much of her work focused on the abolition of prisons and in 1997 she co-founded Critical Resistance, an organization working to abolish the prison–industrial complex. In 1991, amid the dissolution of the Soviet Union, she was part of a faction in the Communist Party that broke away to establish the CPUSA. Also in 1991, she joined the feminist studies department at the University of California, Santa Cruz, where she became department director before retiring in 2008. Since then she has continued to write and remained active in movements such as Occupy and the Boycott, Divestment and Sanctions campaign.
Davis has received various awards, including the Soviet Union's Lenin Peace Prize. Accused of supporting political violence, she has sustained criticism from the highest levels of the US government. She has also been criticized for supporting the Soviet Union and its satellites. Davis has been inducted into the National Women's Hall of Fame. In 2020 she was listed as the 1971 "Woman of the Year" in Time magazine's "100 Women of the Year" edition, which covered the 100 years that began with women's suffrage in 1920. Davis is included in Time's 100 Most Influential People of 2020.
---
from Wikipedia and NorcalMLK
---